One of the most exciting things about entering a new year is the promise of new musical artists breaking out and cementing themselves as a defining part of that time. In 2016 we saw veteran artists have mammoth breakouts like Anderson .Paak and unknowns like Desiigner come through with mega-hits and major label deals. Granted, in the social media age there are so many ways that someone can be discovered that it is getting harder to pinpoint exactly who is going to be the next big thing, just look at Desiigner. Regardless there are still young, budding artists who have set themselves up for gigantic success in 2017. These are ten names to watch out for in the coming year.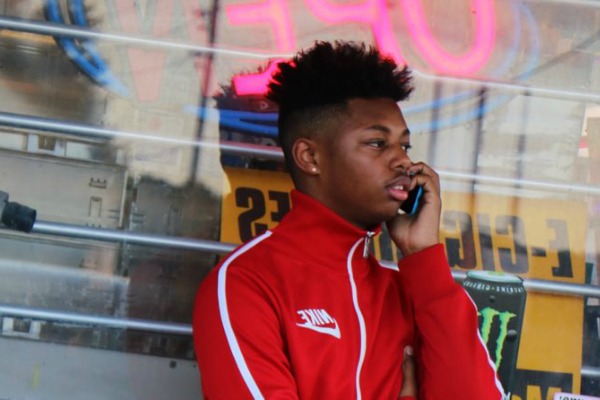 Photo via Pigeons & Planes
Kaiydo
Kaiydo is making a strong case to be the next in the Chance the Rapper, D.R.A.M., and Mac Miller, lineage of making feel-good, brightly colored rap with an aesthetic to match. Songs like "Fruit Punch" and "Jumpin'" recall the same energy and cheesy grinned vibes of Chance songs like "Good Ass Intro" and "Juice", but with a more sedated lyrical delivery. In a year where the rap community is likely going to be pretty angry (Waka Flocka already wiped his butt with a Drumpf shirt), the breath of fresh air that Kaiydo offers is going to be very welcome to people who want an upbeat break from the political landscape for a minute. With his debut mixtape Kartoons on the way and upcoming appearances at Bonnaroo, Governor's Ball, and Okeechobee, it is looking like a very bright blue sky is the limit for the 19 year old Floridian.
Photo via Twitter
Xxxtentacion
Being hyped up by an acclaimed rapper is never going to hurt your chances at making it big. Another Sunshine State rapper, Xxxtentacion was already building up steam when A$AP Rocky declared on a Facebook Live video that Xxx is "the hardest [rapper] in Florida", a state that is already boasting the likes of Denzel Curry, Yung Simmie, and Kodak Black amongst older, better established MCs. Xxxtentacion has only one song on Spotify at the moment, a distorted, aggressive, braggadocious beast entitled "Look at Me" and the track has already garnered over three million plays on that streaming service alone. He's also gained a lot of attention thanks to his bombastic collaborations with Ski Mask The Slump God on the mosh-ready tracks "R.I.P. Roach" and "Take a Step Back" in which Xxx does not rap so much as shout his vocal chords out. Where Xxx gets more complicated is that he is already proven to be prone to legal trouble as he is currently doing what will likely be a few months in jail on a domestic abuse charge. Whether or not those charges are going to deter fans is unpredictable, as we have seen Kodak Black's success go almost untouched by his sexual assault charges. But if people do choose to look past it, Xxxtentacion could have an absolutely monstrous couple of years ahead of him.     
Photo via BeatRoute Magazine
HOMESHAKE
Admittedly this is sort of a cheap pick because amongst fans of the bedroom pop genre, Homeshake is already considered royalty. Homeshake is essentially a stage name for Peter Sagar, who upon entering 2017 has two full length albums under his belt and a lot of street cred from his years touring as Mac Demarco's second guitarist and for just being an outstanding musician and producer. Thanks to the success of In the Shower (2014) and Midnight Snack (2015) Sagar has begun to shake off Demarco's shadow and establish a fanbase of his own with his distinctly hazy, funk inspired songs that sway like lazy playground swings. He has become a darling of indie buffs who have grown tired of listening to Salad Days and 6 Feet Beneath the Moon on repeat and has proven to be one of those acts where once you know about him you cannot keep him a secret. That being said, Homeshake has still been limited to small venues while on tour and little acknowledgement from well known music publications. The third Homeshake album, entitled Fresh Air, is due out February 3 and after two years of hype billowing up and an ever growing post-Mac fan base, this could be the album that puts Homeshake on the same level of international recognition as contemporaries like King Krule and Mac himself.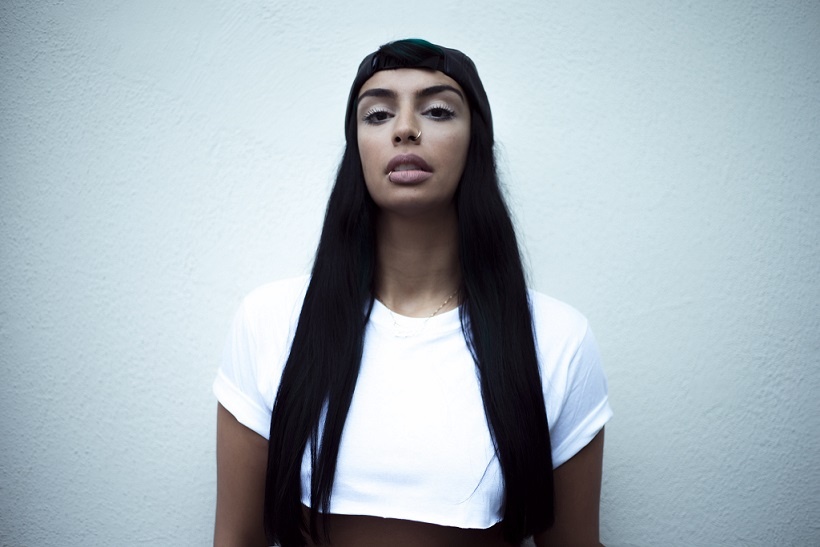 Photo via Pigeons & Planes
Sevdaliza
Over the last three years, the Iranian born, Dutch raised (and former member of the Netherlands Women's National Basketball Team) singer Sevdaliza has been quietly building herself up to be an experimental R&B juggernaut. She came onto the scene in 2014 with the chic, head bobbing single "Backseat Love", released two EPs (The Suspended Kid and Children of Silk) the following year, and had a minor hit with "Marilyn Monroe." She has a remarkably rich voice that blends beautifully with her signature regal electronic beats. If James Blake produced a Sade album in a Victorian ballroom, you would get Sevdaliza's sound. Her debut album is due out at some point this year lead by the single "Human." If that song and the accompanying music video that came out this past November are any indication, we are in for a fascinating, wonderfully disorienting debut that is bound to draw in fans of artists like FKA twigs and ANOHNI.
Photo via Bandcamp
Summer Salt
It feels like Summer Salt has been a storm brewing over the last two years and all it is going to take is one full length album for them to take over the indie rock world. The three piece Austin, TX group specializes in laid back, tropical, rub your toes in the sand surf rock with hints of Brazilian bossa nova and the occasional Beach Boys harmony. In 2015 Summer Salt released the six track Driving to Hawaii EP, which is just as irresistibly tranquil and fun as the title lets on, and a three track EP entitled Going Native. At their concerts this past Fall the band performed new songs and announced on their Instagram that new music is on the way. Whether or not that means a full length album is coming remains unclear, but with the momentum and following that Summer Salt has built (bassist Phil Baier refers to their fans as "salt shakers") they have a lot going for them whenever that new music is released. An album would likely reel in more press, which between the bands already established charisma and infectiously smooth songs could skyrocket Summer Salt through the indie rock ranks. Regardless, any bit of new music from them is not going to disappoint any Salt Shakers out there.       
Photo via The LGBT Update
Destiny Frasqueri/Princess Nokia
Hopefully someday "Feminist Rap" will no longer need to be a term as it will just be synonymous with "Rap". Unfortunately even in 2017 that is still not the case, but if anyone is going to help push the genre forward it is New York hip-hop artist Destiny Frasqueri. Frasqueri has released projects in each of the last three years, specifically her two mixtapes Metallic Butterfly (2014) and Honeysuckle (2015) along with last year's 1992 EP that she released in collaboration with producer OWWWLS under her Princess Nokia moniker. That particular EP proved just how tremendous of a rapper she is, her annunciations command respect like Raekwon on "C.R.E.A.M." and her flow has a sting that can make laid back beats sound like club rattling bombshells. 1992 has been her most successful project to date and it would not be surprising to see her only releasing music under the Nokia name in the future, but given that she has not put out a solo mixtape (or full album for that matter) in two years, this is prime time for Frasqueri to drop some new material. Given the current social climate and post-inauguration explosion of no holds barred feminism that she has been such a strong advocate for, a new project from her that boasts the same ass kicking confidence and message as tracks like "Tomboy" and "Brujas" could very easily blow up. That being said, Frasqueri is a force to be reckoned both inside and outside of feminism and she has one of the brightest futures in hip-hop regardless of how she chooses to approach it.
Photo via Reverb Party
OMNI
OMNI's August release Deluxe may have been the most impressive guitar album of the last five or so years, much less of 2016. OMNI is led by former Deerhunter band member Frankie Broyles as well as Philip Frobos and Billy Mitchell of Carnivores, which gives them a leg up as somewhat of an Atlanta indie rock supergroup. The chimy post-punk trio has brought in a good deal of attention thanks to their Parquet Courts meets The Strokes instrumentation that takes up the foreground of their songs against quietly intelligent and relatable lyrics. As if the increasing praise for Deluxe and a Pitchfork hyped new single on the way were not enough, the band is now embarking a lengthy tour of Europe and a spot at this year's South by Southwest festival, both of which are bound to spread their name far and wide to kick off 2017.  
Photo via XXL
6LACK
Riding the acclaim of his stellar November 2016 release Free 6LACK, the Atlanta rapper is already a few steps up on the hip-hop ladder. 6LACK has a weary voice and flow that glide over dark, oceanic beats that fill up every millimeter of speaker space when his album is played. He alternates flawlessly between his signature ominous style of rapping on songs like "PRBLMS" and "Rules" to serenading his listeners with a Frank Ocean-esque singing voice on tracks like "Ex-Calling", making him a subtly dynamic presence in hip-hop. While 6LACK likely will not be releasing a project in 2017, the shockwaves from Free 6LACK may be all he needs to cement himself as a serious player this year. His shows in early 2017 have gotten a good deal of hype and he has already proven to have caught the eye of some big names such as The Weeknd, whom he brought out during a show in Los Angeles in January. Throw in a few possible guest features (fingers crossed), writing credits, and festival sets over the course of this year and the hip-hop community will be watering at the mouth for whatever 6LACK is going to pull out next.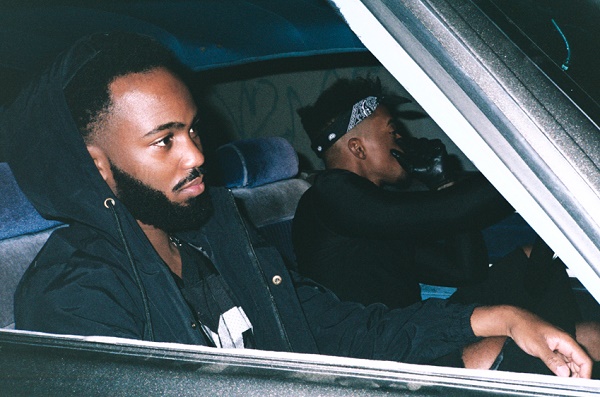 Photo via Pigeons & Planes
THEY.
Stylistically, rappers and R&B singers have begun to fully embrace the idea of themselves being the new iteration of rock stars. Travis Scott's television performances and just about everything that Rae Sremmurd does have attested to that. THEY. are taking that to another level, bringing an Alternative Rock mentality and occasionally Rock oriented instrumentations to Rap and R&B. The LA duo of Dante Jones and Drew Love introduced themselves in 2015 with a guitar heavy EP called Nü Religion and gained a lot of attention in 2016 when they opened for Bryson Tiller on his Trapsoul Tour. Last year they also had somewhat of a hit with a feature on ZHU's "Working For It" alongside Skrillex and since then they've released the singles "Say When", "What You Want", and "Deep End". In mid-January the group released a new single titled "U RITE" that gravitates away from the rock influenced sound for a more straight up 2010's hip-hop influence. That being said, "U RITE" is a straight up banger that sounds an alarm, alerting the rest of the hip-hop world that these guys mean business. And the amount of singles in the last year points towards a full length album in the works. The pair of Jones and Love have palpable chemistry and can make their two voices sound like a full on chorus. Yes, because they are two young dudes who make revved up hip-hop earworms with a rock n' roll swagger, they will constantly be compared to Rae Sremmurd, but there is nothing wrong with another means of living the SremmLife, especially after "Black Beatles" inevitably plays itself out.  
Photo via DJBooth
Khalid
This is a pretty safe bet considering that El Paso's Khalid put out one of the most beloved R&B singles of last year in the form of "Location" without having ever released any kind of widely recognized project before. Khalid has one of the smoothest, warmest vocal deliveries of any up and coming young artist today. And that comes across even on songs filled with swelled longing ("Location") or still wounded heartbreak disguised as optimism ("Coaster"). His debut album is supposed to drop on March 3 and he is also already in the middle of a sizable headlining U.S. tour and each of the five post-"Location" singles he has released have received glowing praise and press. Also he is only eighteen years old going on nineteen but has the voice of a grown man who has had his heart ripped out of his chest more than once. His skills are already well beyond his years, and now that he is gaining the experience to accompany that at this very moment, Khalid is going to be an absolutely unstoppable force in the coming year.
3315 Total Views
6 Views Today